KNOW YOUR 1980s DENVER BRONCOS
This week, the second in a series of team rushing leaders, #33, Tony Dorsett.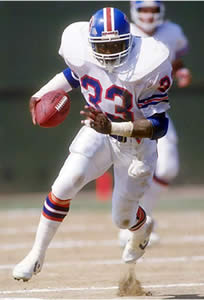 As the 1980s Broncos evolved into a perennial contender under the coaching of Dan Reeves, it was clear that they would need a top-tier running back to enable Reeves to not change his lumbering offensive system in any way, despite the presence of John Elway.  Towards this end, for the 1988 season the Broncos traded for aging future Hall-of-Famer Tony Dorsett.  Tony had spent the first eleven years of his career with the Cowboys, amassing over 12,000 yards rushing, one of the best figures in NFL history.  He had finished among the league's top ten rushers for eight consecutive years from 1977 through 1985.  But by 1988, Tony was coming off of a couple of uncharacteristically mediocre seasons, and the Cowboys were giving progressively more of the workload to Herschel Walker.  Taking advantage of a fresh start, Tony became Denver's feature back for the 1988 season, and led the team in rushing, splitting carries with Sammy Winder, who otherwise served as fullback.  However, injuries and advancing age encouraged his retirement after just a single year in Denver.
Tony played in Super Bowl XII, following the 1977 season, in which the Broncos were pummeled by the Dallas Cowboys 27-10.  Fortunately for Tony, he played for the Cowboys at the time.  This pummeling would have prepared Tony for life as a 1980s Denver Bronco, but unfortunately his lone season with the team came in the year sandwiched between the team's appearances in Super Bowls XXII and XXIV.  He also played in Super Bowl XIII, in which the Cowboys lost to the Steelers.
So what makes Tony Dorsett so awesome?  Well, the obvious reason is that he is without question one of the best running backs ever to play in the NFL.  He remains the league's 7th all-time leading rusher.  He came into the pros as a much-hyped Heisman trophy winner and lived up to his promise.  A second reason is that his time with the Broncos makes more for an interesting story than a sports achievement: future Hall of Fame player sent packing by original team, who found a temporary place with the Broncos before retiring.  Denver has had few HOF members, and ever fewer who recognize the Broncos as their team. (Uh, Tony does not.)  But his year leading the team in rushing remains part of 1980s Denver Bronco lore.  But the real reason is that Tony successfully changed the pronunciation of his name in mid-career, a rare achievement.  Initially it was read like "DOR-sit", but at some point he wanted it pronounced "dor-SETT".  And everyone went along with it!  (Except his mom, per legend.)
These days Tony does charity work and makes occasional celebrity appearances.  Most notably, he hosts the Tony Dorsett Celebrity Golf Classic for McGuire Memorial, a ministry and charitable organization in western Pennsylvania.
Image from SI's "Legends in the Wrong Uniform" Gallery.