KNOW YOUR 1980s DENVER BRONCOS
This week, #53, Randy Gradishar.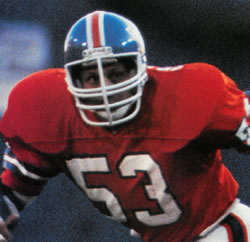 Drafted in the first round (14th overall) in 1974 by the Broncos, Randy rewarded the team's high pick by becoming one of the greatest players in franchise history.  Randy became a starting linebacker during his first season with the team and by his second year had made enough of an impact to be named to the Pro Bowl.  By the late 1970s, the Broncos' defense had become notoriously tough, earning the nickname The Orange Crush.  Randy was one of its most feared defenders, making three straight Pro Bowls from 1977-1979 (he would play in three more in the 1980s, for a total of seven appearances) and earning All Pro honors in 1977 and 1978.  In 1978 he was named the NFL Defensive Player of the Year.  Randy continued his stellar play through his the 1983 season, his tenth and final campaign.  He was inducted into the Broncos' Ring of Fame in 1989.  He's also considered one of the greatest players in Ohio State University history, but I don't hold that against him.
He played in Super Bowl XII, in which the Broncos were pummeled by the Dallas Cowboys 27-10. Note that his Orange Crush defense gave up fewer points than any of the 1980s Super Bowl teams did, by a significant margin.  So, they still lost, of course.  Just by less.
So what makes Randy Gradishar so awesome? I grew up in a Denver Broncos household and my parents were wearing Randy Gradishar warmup shirts on Sundays for years.  So his legacy lived on long past his retirement.  He's a Hall of Fame-caliber player and has made it as far as being a finalist twice, and even to the final ten, but has not garnered the necessary support to get into the Hall.  Randy is undoubtedly shortchanged by a lack of national recognition.  Linebackers are best remembered by reputation.  Tackles were not kept as an official statistic until 2001, though according to unofficial statistics, Randy remains the all-time NFL leader.  But Randy didn't have the terrifying demeanor of Jack Lambert, to whom his career often merits comparison.  Further, his team didn't win Super Bowls like Lambert's Steelers did.
These days Randy is the Director of Corporate Communications for the Phil Long car dealerships in Colorado.  He has donated his energies to numerous charities and has made several visits to troops overseas.  He seems like a nice dude.