KNOW YOUR 1980s DENVER BRONCOS
This week, #43, Steve Foley.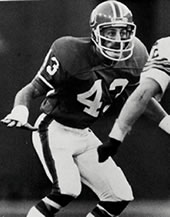 Steve was drafted by the Broncos in the 8th round of the 1975 draft, a round so late it doesn't even exist anymore.  He overcame this humble beginning to spend his entire 11-year career with the Broncos, and remains near the top of the team's all-time games played.  Steve started out as cornerback, but shifted to the free safety position in 1980, where he remained until his retirement following the 1986 season.  He is the Broncos' career leader in interceptions.
He played in Super Bowl XII, in which the Broncos were pummeled by the Dallas Cowboys 27-10, and Super Bowl XXI, in which the Broncos were pummeled by the New York Giants 39-20.  The team's even more severe pummelings in Super Bowls XXII and XXIV might be attributable to the loss of Steve's veteran leadership on defense.
So what makes Steve Foley so awesome? He is the star of one of my more vivid 1980s Denver Broncos memories, a famous Monday night snow game matchup against the Green Bay Packers (here is another link with story about the game and a photo, but also approximately four million ads, so please decide for yourself how badly you crave more information about it).  Wintry conditions lead to two separate Broncos defensive touchdowns via fumble return, including one by Steve.  An additional Rich Karlis field goal put Denver up 17-0 at the half, which was unfortunately my bedtime*, and I would have to wait until the next morning to learn the outcome of the game**.
These days, Steve runs FS Land, LLC, the Denver-area land-development company, with his business partner Bob Swenson, another 1980s Denver Bronco.  Per a 2007 Denver Post article, the two have remained close friends and enjoy cajoling each other and taking about themselves in the third person.  They also consider themselves to be in the "people-development" business, which I found disconcerting.
*Nowadays my bedtime is also at halftime of night games.  These games start at the same time they did in the 1980s (in fact, they might start a little earlier now), and my bedtime is now probably two hours later than it was when I was seven, but now I live two time zones further east.
**Though I went to bed disappointed since I imagined there would be dozens, if not hundreds more zany snow-induced scores, the second half was relatively boring.  The Packers scored two touchdowns to get as close as 17-14, but that was all they could muster, and the Broncos won despite failing to score any offensive touchdowns.