Month: June 2011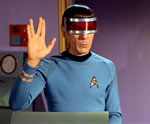 72. That Which Survives. At one point in this episode, Scotty informs Spock that he doesn't know exactly why, but he can tell the Enterprise just isn't running right. I have the same feeling about the show at this point. I can't really put my finger on it, but it's just…off.  I think one symptom of staleness in fiction is that characters are not really themselves anymore, they just become sort of caricatures of their most notable tendencies. I think maybe what happens is that the writers stop working to develop the character and start simply applying the formula.  Spock doesn't just act logically, he acts REALLY logically and announces that he's being logical constantly. He spends this entire show bickering with the crew about just how not logical they are. He says Scotty's too emotional. He says the navigator isn't precise enough. I feel like Spock had a sense of humor in the earlier episodes, and that's disappeared. Of course, he wasn't supposed to have a sense of humor, but he most certainly did, in a very Spockian way. See just about every Killer Spock Line I've posted. These days that wit is gone. It's like when you crack a joke to someone in a rotten mood and they don't laugh. Instead they say, "Chickens don't cross roads." And you know to stop talking. That registers as humorless. That's Spock lately. This episode suffers as a result. It's not much fun. Kirk, McCoy, Sulu, and a guest character (uh-oh) are checking out a mysterious planet. But it's controlled by a computer which has gone rogue, kicking the ship 1000 light years away (or as Grouchy Spock insists, 990.9 or something) while Kirk and Co. try to figure out what the deal is with a mysterious woman who keeps appearing and trying to kill them. The stories were mixed. We didn't really learn anything until we learned everything. There's a little eye roll-inducing fake suspense built in (the necessary tool is jammed! oh wait, no, it isn't!). Scotty and Spock had a number of interesting conversations, but I think they would have been more interesting two seasons ago. Killer Spock line: I dunno. There were a few things that were supposed to be clever Spock aphorisms or cute misunderstandings of human humor but they mostly whiffed. Overall: middle of the road, not especially bad but not memorable either. 3 out of 5.
Trek tropes:
Anonymous redshirt killed (and a named blueshirt guest star, and some engineering drone–it was a tough day at the office all around)
Highly experimental plan with low probability of success somehow works anyway
In the future, computers are magic, but still make teletype sounds
73. The Lights of Zetar. Parallel to my Star Trek watching is my watching of Friday Night Lights with K. We find Friday Night Lights to be sort of trashy and very much a soap opera, but it is a marvel of pacing. We watch two episodes back to back and I still feel like I could sit through another one. I never look at the clock except to check to make sure I haven't exceeded my age-and-employment-mandated bedtime. Meanwhile, recent Trek episodes are putting me to sleep in a seriously effective way. I had to re-watch the second half of "The Lights of Zetar" because I closed my eyes at some point and next thing I knew I was seeing the awkward closing scene banter. On the other hand, it's not really fair to compare the two shows. Trek is cerebral and adheres to standard sixties TV pacing. FNL is more modern: fast and emotional and multi-threaded. I'd still say I like Trek better on the whole, but let's face it, about half of the episodes are sleep fuel. Maybe I just want to like Trek better because it's more to my aesthetic tastes and admitting I like a teen soap opera more sort of kills my already dubious credibility. I can't argue against FNL being more entertaining, especially compared to some of these third-season Trek entries, but I think if Trek had had even a fraction of the FNL budget, the stories could have been deeper and the production value much better. Anyway, I'm taking my time getting around to the actual episode in question here, and the main reason is because this was frankly just a really forgettable episode. The execution was painfully slow. The story really needed to branch into more directions, and instead it just plodded along looking for things to do. The resolution makes little sense. If you want to defend Trek as a progressive show this is also not the best place to start. The guest star is possessed because (as a woman, presumably) she's particularly "pliant" (luckily men are resistant and around to straighten her out). Scotty's relationship with her is about as subtle (and, let's face it, creepy) as his preening love of a good warp core. There simply isn't anything to take away here other than the well-executed freaky possession voice. Killer Spock line: bleh. Nothing. Overall: 1 out of 5.
Trek tropes:
Only Kirk can truly make command decisions
Strange probe encountered in space
In the future, computers are magic, but still make teletype sounds
Highly experimental plan with low probability of success somehow works anyway
Lighthearted banter to close episode
74. Requiem for Methuselah. At this point I'm frankly surprised when I hit the end of an episode and I'd lost track of time and was never threatened by sleep. Luckily we're about to round back to the beginning of the series and this season of dismally rare coherence will be fully behind me. Bashing aside, "Requiem for Methuselah" is a standout among what we've slogged through lately and here's to hoping it'll perk me back up for the last bits of the season. The concept is really interesting and the story is well-done, with a few unexpected twists. There's actually a lot of good sci-fi themes covered: AI, immortality, human nature in the future, should people date robots, and if so, is it cool to have a whole harem of them, even if most are de-activated and you live alone. Getting back to what I was thinking about regarding ep. 72's Grouchy Spock, I didn't feel like the characters were being forced on me anymore, they were just doing what they do, and everything fell into place. Of course one of the main things they do is that Kirk falls for every new woman he meets and this time around he gets particularly pushy about it, to the point of fighting other dudes that he thinks might have their eye on his girl. (At one point when Spock interferes, he yells, "Stay out of this, we're fighting over a woman!") Curious ending scene, however, and inconsistent with other episodes. So if Kirk is going to fall in love over and over they need to come up with ways for him to consistently leave it all behind and be ready for the next show. There was one recent show where Kirk was in love (I don't remember which–I can't even keep track of them all) where it was resolved that he'd be OK because his first love is the ship. But this time he is so enamored he ends the show with his head down at his desk in his room, crying to himself. Awww…but Spock erases his memory or something, so we're all good. Killer Spock line: "It does appear to defy the male logic, as I understand it." Overall: a strong episode not only for the third season, but for the series. 5 out of 5.
Trek tropes:
Kirk hits it off with alien babe
Violation of Prime Directive
Spock displays Vulcan superpower never really seen again
75. The Way to Eden. This show was made in the late 1960s and addressed numerous progressive themes. Listen, if that's your thing then at some point you need to address hippies. Here, we have space hippies, I guess. And this band has stolen a Federation shuttle and are raising hell throughout the galaxy, until they run into the Enterprise and accidentally blow up their ship trying to cheese it. Kirk gets them beamed aboard and tries to not be too much of a square (or a "Herbert" in space hippie vernacular) even though The Man is telling him to. There's a lot of stuff about how it's cool to be a free spirit when you're young but all the Enterprise crew is older and wiser now and jobs are much better than the barefoot alternative, even if one can totally dig the music. Eventually we figure out that the leader is basically a nut and his followers are being led astray. We even learn that Spock is pretty much a hippie himself, and even jams with them a bit. But what we don't learn are lessons like: is there a good reason to have a fully functional auxiliary bridge–that requires no piloting expertise of any kind–to be aboard a starship? And for that matter, if you did happen to have that, should you leave it unguarded and unlocked? Because it turns out that if you do, space hippies will just go right in there and use it to take over the ship and there's nothing you can do about it. Anyway, I can't say this was a good episode. In addition to frequent plot problems, the show had a lot more singing that I would like. I would say that I prefer the number of songs in my Star Trek episodes to be approximately zero. This episode, however, featured numerous musical interludes, complete with the crew really digging it inasmuch as grownups can enjoy anything, what with their slavish duty to employment and hygiene and clothing. In the end, clothing wins though, as it is the only thing protecting Kirk and Co. from the acidic plants encountered on their false Eden. The poor, barefoot hippies.But score one for clothing, so derided by the hippies earlier in the show. Killer Spock line gesture: a hapless shrug after attempting to talk some sense into those damn kids. [No one can tell me Spock's not funny. No one.] Overall: not entirely unenjoyable, but just plain silly. 2 out of 5.
Trek tropes:
Enemy allowed easy access to highly sensitive area of the ship
Invisible Space Powers