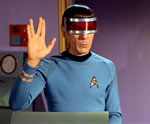 9. Dagger of the Mind. The best reason to apply a sci-fi theme to your dirt-cheap 1960s TV show? INVISIBLE SPACE POWERS. Things that happen in space are mysterious! Telepathy. Psychokinesis. Space madness. TOS excels at all of these things. You kinda never even think about it, until you read about a given show's production or listen to a commentary track and there are about a million instances of "The producers decided to have [character] do [some weird thing requiring no special effects] because the actors could just pretend it was happening and it was cheap." "Dagger of the Mind" is all about Invisible Space Powers. The whole thing is space crazy time. But it's fine, really. It just continues to establish some of the Trek conventions we will get very used to over time. The bigger issue is that this is a mystery episode with no mystery. TOS doesn't really do the mystery thing well like TNG did. You know the main guy they meet is going to turn out bad, no matter how nice he seems. You know the mysterious machine that has never malfunctioned before is going to malfunction. It's all good though: where TNG was about ideas, TOS is about execution. Anyway, pretty familiar Trek fare on the dangers of technology. The nice Doctor has a weird machine that could be used for therapy, but he explains that they really don't use it because his assistant fried his own brain with it, so never mind that, let's move on with the tour! Of course, Kirk wouldn't be Kirk if he just let stuff like that slide. So they figure out the danger pretty quick, because the time for talk is through and we're ready for some action, like climbing through access vents and a whole lot of Space Madness. Listen, if you don't want to see people go space crazy then this is not the show for you, but "Dagger of the Mind" is a little thick with it. There's just really a whole lot of ranting (especially from Morgan Woodward, who would come back in ep. 52 to be another crazy guy) here. That aside, there are a lot of good ideas and it's fairly well-paced. Spock does his first ever Vulcan mind-meld (he doesn't have the technique down yet). Dr. Noel might be the best female character in the series so far. Don't worry though, we'll never see her again and there's lots more Vacantly Staring Yeoman Rand on tap. Killer Spock line: "Interesting. You Earth People glorified violence for forty centuries. But you imprison those who employ it privately." Zing, Earth People, zing. Overall: 4 out of 5.
Trek tropes:
Kirk meets up with an old flame
Spock displays Vulcan superpower never really seen again
Invisible Space Powers
10. The Corbomite Maneuver. Certainly the best TV episode ever about a maneuver. But the ceiling has not been set all that high, so if you have other maneuver-based fiction, do not lose hope. Ultimately this episode is just weird. It was only the third one produced so they hadn't really ironed everything out yet, maybe. Let's start there. They spend a lot of time establishing some of the routines on the ship – we learn lots about Kirk's physical health and his dietary needs, for example. This must have been before the producers realized that's pretty boring. A salad is still a salad, even if you're eating it in space and Kirk calls them "green leaves." It's also a classic Dangerous Encounter in Space episode. This time, they encounter a cube. Yes, a cube. Thought it does rotate and has its own music. (I love how when Spock pipes the video feed of it to Kirk's quarters, he also gets to hear its music.) Then they destroy it. And a much bigger ship shows up to tell them it was his probe and now he thinks humans are terrible and is going to blow them up. Kirk pulls a brave gambit…a maneuver, if you will…and gets away. And learns the truth behind the aliens' facade, which is Clint Howard as the creepiest child ever. I kind of felt like most of this show just didn't really work. They tried to fit in a lot of character moments, but they seemed flat, save for the McCoy-Kirk stuff. The "Lt. Bailey can't handle this stuff" was a bit of a dead end, to me. All that said, the episode certainly wasn't boring. The Corbomite Maneuver is actually a pretty clever maneuver. And there's a lot that's memorable: the horribly fake-looking alien that we learn actually is horribly fake, Clint Howard's frightening performance and offering of tranya, and the line, "You have ten Earth Periods, known as minutes…" ("We better make it sound science fictiony! Call them Earth Periods! But so it's not confusing, note that they mean minutes, and not femtoseconds or decades.") Killer Spock line: "[Adrenaline] sounds most inconvenient however. I'd consider having it removed." Overall: 3 out of 5.
Trek tropes:
Strange probe encountered in space
Only Kirk can truly make command decisions
11/12. The Menagerie. Since it's such an unusual entry I'm not really going to provide a full-on review of this one short of saying it might be the best clip show ever. Just a ridiculously clever re-use of the otherwise useless original pilot. It doesn't actually have the best reputation but I totally dig it. Overall: 5 out of 5.
Trek tropes:
Enemy allowed easy access to highly sensitive area of the ship
In the future, computers are magic, but still make teletype sounds
13. The Conscience of the King. Another really good one. TOS season one is SO MUCH BETTER than season three. Man. Even the worst episode of these four is better than almost everything in that miserable final season. "The Conscience of the King" is a terrifically written and acted bit of Shakespeare homage. It got a little heavy-handed with the Shakespeare at the end just to remind us all that it was being really, really literary, but that can be forgiven with the more reasonable application everywhere else. Star Trek VI definitely owes some of itself to this one. I'll be lazy and not bother developing any kind of theme for this one. Instead I'll just point out some highlights:
The Star Trek lounge music playing during the party season. It's the Trek them, just lounged up. Awesome. I'll also note that this is the second episode of the last three that I'd love to link to a clip of the music but the only Trek allowed on YouTube, apparently, is some annoying guy narrating short versions of the episodes.
The first really top-notch Spock/McCoy "Humans rule/Vulcans drool" scene.
Extremely Proud of His Irish Heritage Lt. Riley in an extremely rare secondary character re-appearance. Then he dies.
The never-used-again call for "Double Red Alert". OMG DANGER!!!!
Killer Spock line: None, but highly enjoyable facial expressions as he overhears Kirk hitting on Lenore. Overall: 5 out of 5.
Trek tropes:
In the future, computers are magic, but still make teletype sounds
Kirk hits it off with alien babe (let's take a moment to clarify this doesn't mean a woman of some weird gross space race, it just means, some girl who isn't a part of the crew)
We make fun of the Irish because we love those drunken rabblerousers
Enemy allowed easy access to highly sensitive area of the ship