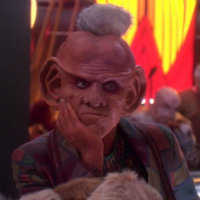 Welp, I was already pretty far behind on my DS9 recaps anyway, then we went on vacation for a week, and I spent another week catching up on inessential non-DS9 aspects of my life, such as employment. So I'm going to crank this one out to get caught up.
S1E18, "Dramatis Personae" (writer: Joe Menosky)
TOS had multiple episodes where some kind of space madness would take over the ship and the only ones with immunity were Spock, because he wasn't human, and Kirk, because no space disease could overcome the force of his sheer bold willfulness. Maybe you can't always have a Kirk around, but you can at least have an insurance non-human aboard. Odo, you got the ball this time, buddy. A telepathic space virus or some damn thing overtakes everyone else, which causes them to lose their minds and start conspiring against each other, going a little feral, or in Sisko's case, makes him weirdly obsessed with clocks. (It's played sort of non-seriously but it's a neat way to portray the emperor losing his sanity.) The non-humanoid Odo is immune and left to sort things out. It should also be noted that Quark, who is ready to turn on anyone at any time, and having never suppressed a primitive urge before, is also unaffected by the virus.
It's a throwback plot with a throwback effect: which is to say it's sorta boring. Lacking the usual complex plot DS9 episodes are going for, it's a gimmick episode for the characters and their interrelationships. Some of their underlying feelings are emerging, e.g., when it comes down to it, Kira thinks she ought to be in charge. And it's fairly fun but a few weeks later I barely remember how each of them changed.
Note for future reference: we learn that Bashir doesn't have the first clue how to provide Odo with medical care.
Overall: 2 out of 5. Some fun touches but the setup is a little flimsy and contrived, and mostly I just got sleepy. I've seen this before and this time we didn't even get to see a shirtless Sulu running around with a sword.
S1E19, "Duet" (writer: Peter Allan Fields)
This is the kind of thing that's hard to rate because it's decidedly not delightful. "Entertaining" is not the word I would use to describe a grim dissection of the horrific reality of wartime. The episode was indeed great. But it's also about the aftermath of suffering Bajoran war prisoners and a low-ranking Cardassian military guy's distress over his inability to do anything about it. Jake and Nog, where are you when we need you.
It's framed as a mystery about the Cardassian's real identity and Kira's interrogation of him the comprises most of the plot. It's well-done, we're not at all clear who he really is or what Kira has gotten herself into, and the reveal is satisfyingly meted out as they get closer and closer to the truth. Along the way we learn more about Kira and some additional details about what the Bajorans have gone through under the Cardassian regime. Crack performance by Harris Yulin (a classic That Guy) as the Cardassian.
Overall: 5 out of 5. But I'm not watching it again.
S1E20, "In the Hands of Prophets" (writer: Robert Hewitt Wolfe)
I'm already tired of the battle for political/spiritual leadership among the Bajorans. It combines my disinterest in fictional political intrigue with my disinterest in fictional religious fanaticism. (I find even their nonfictional counterparts extremely pointless, so this is not a template for successfully garnering my interest.) So we've got the extreme conservative faction headed by Vedek Winn, who busts into Keiko's school with some "wormholes are actually spirit temples" nonsense and proves that even in deep space they still have flat-Earthers. Keiko's not about to knuckle under and drop the science curriculum aboard a bloody space station. [Keiko for President, fwiw.] But the Bajorans on the station get huffy and stop coming to school and work over the dispute, and Sisko tries to head things off by calling on Vedek Bareil–also an influential Bajoran leader, but at least one who has joined the 23rd century. But he's got political considerations to worry about and can't take too firm a stand against Winn, and if this ain't a parable for modern politics I don't know what is. And it's just as frustratingly destructive, complete with the fracas erupting into some domestic terrorism.
Overall: 2 out of 5. Not a bad episode, if a little tiresome. But that could just be me, plus an episode about the scourge of regressivism is just really the last thing I want to think even more about these days.
S2E1, "Homecoming" (writers: Jeri Taylor & Ira Steven Behr)
S2E2, "The Circle" (writer: Peter Allan Fields)
S2E3, "The Siege" (writer: Michael Piller)
Ambitious three-parter to kick off season two. Following up the events of "In the Hands of Prophets", we see that vying Bajoran factions are getting increasingly vocal well beyond the scope of just the station. Without recapping the entire three-episode arc, I can discuss the major players:
Li Nalas, the extremely reluctant Bajoran folk hero. Circumstances once forced him to fight off several Cardassians but he ended up a prisoner, and Kira (with an assist from O'Brien) rescues. In the meantime the stories about him have grown into legends. It's hard to pull off a good reluctant hero, too often they basically end up being, well, Harry Potter/Luke Skywalker/Katniss Everdeen/every American saga forever. Li Nalas is a good one, though. He doesn't morph into a Jedi badass, he just tries to be useful.
Jaro Essa, Bajoran governmental minister trying to re-establish provisional leadership. He barges in to DS9 and reassigns Kira to Bajor, replacing her with Nalas, which neither of them are happy about. I would describe this character as effectively hateable.

This leads to the best scene of the arc, when Kira is packing for her reassignment to Bajor, and all the regulars keep showing up on some flimsy pretext to say goodbye to her. Some good farce here, as pretty soon the entire cast is in her bedroom somehow. And for the first time, she claims some allegiance to them. Awww.

The Circle, a group of Bajoran extremists whose influence has started to appear on the station in the form of obnoxious graffiti that Odo or someone has to clean up. (I bet he gets Morn to do it for like, next to nothing. Cost of the cheapest swill at Quark's.)
Some militant Bajorans, including an extremely wooden and forgettable performance by fellow '90s TV guy Steven Weber, who I guess just had an off-week over at Wings or something and wandered over to the DS9 set, so they slapped a Bajoran nose on him for a cameo.
Eventually the larger conspiracy that's agitating the Bajoran rift is unraveled and things go back to normal after some zap-zap phaser battles around the station. Good job everyone.
Overall: 3 out of 5. Lots of Bajoran background and some larger themes covered but the execution is a bit meh. Two tighter episodes instead of three, padded out with zap-zaps and silly bellowing Bajoran Bad Guys, would have been better.