Since we've had cats, K and I have been obsessing over the packaging on most commercial cat products.  There is an absurd reliance on Photoshop to produce cats with faces that are creepily perfect (or in industry parlance, "purr-fect").  Lots of unnaturally large eyes, batting paws, licking of lips.  Of course this happens for all kinds of human marketing too, but cats are cute!  They don't really need Photoshop help.  It's weird to think that it's someone's job to take an ordinary good-looking cat and turn it into a weird anime-ish cat-like thing.  However, the makers of Friskies would disagree: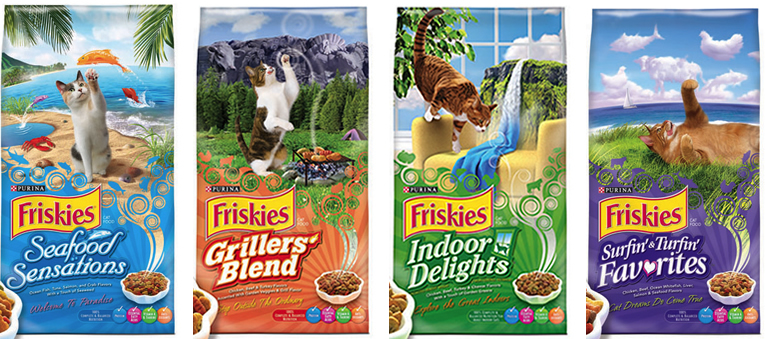 Here is a ridiculous array of their line of dry cat foods.  Each one of these is a masterpiece of Photoshop and imagination, bringing us a new version of a cat paradise.  Somebody, and possibly a whole team of marketers and graphic designers, developed this line, with glorious results.  Let's examine them more closely.
Seafood Sensations
Slogan: "Welcome to Paradise"
Captures Felix Everycat's dream of a luxurious beach vacation, where the seafood is so abundant it literally leaps out of the sea onto your batting paw
Cats love swimming in the ocean
Cat appears to be about 7 feet tall
Where the heck is the orange fish jumping from/to?
Grillers' Blend
Slogan: "Step Outside the Ordinary"
Captures Felix Everycat's dream of a mountain excursion for hunting and subsequent grilling
Wait, grilling?  Why is Felix further grilling the tiny cat food morsels?
Features Mount Rushmore of land-based cat food meats: beef and turkey
Cat also enormous-looking and licking lips while batting at whisps of smoke
Indoor Delights
Slogan: "Explore the Great Indoors"
Will make Felix feel like his indoor lifestyle is just as good as free jungle roaming
An ordinary blanket is like unto a majestic waterfall
Cats also love swimming in jungle pools
Cat neither batting nor licking lips!  How did this get past marketing?
Surfin' & Turfin' Favorites
Slogan: "Cat Dreams Do Come True"
Deliciously-shaped clouds
Actually slogan is pretty spot on, this could be a cat dream
Cats enjoy sailing
Cat batting AND licking lips, as God intended
Oh well, actually the joke's on us.  We eschew these marketing ploys to buy an expensive brand called Wellness thinking we are making an important decision to buy quality.  When the vet asked us what kind of food we buy, I hoped our reply would make her say, "Yes, you guys are doing it the right way.  That is the best brand available for the health and happiness of your cats."  Instead, she had never even heard of Wellness.  You win again, Friskies!