Buried in the Noise

Begin transmission
Watkins: a review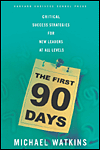 Library pals will remember, with substantial disinterest, having to read Michael Watkins' The first 90 days: critical success strategies for new leaders at all levels. For others, an explanation: Watkins' work is not a text about librarianship at all. It was instead a handbook of advice for business school soon-to-be-grads beginning their forays into professional work. In other words, I loathed it.
I should mention: in this space, as well as in real life during epithet-ridden tirades, I have before mentioned my deep, dark hatred of this book. Watkins was precisely the sort of reading I went to library school to avoid, then ultimately mis-shelve, and "accidentally" dump down the garbage chute. Forcible comprehension of it merely solidified my belief that business school is really not meant to prepare today's youthful go-getters for their professional lives, but actually to make a desperate final plea with them not to treat everyone they'll meet like serfs. Watkins' ideas reflect this. The chapters are bursting with buzzword-emblazoned jargon that, once translated to English, offers advice most people would consider common sense. To spare those I care about the pain of this work, I'll summarize the main points stressed by Watkins, who must be considered an expert because he teaches business at teh Harvard:
1. Be competent. Seems business students need to be reminded that their careers will occasionally involve actual work, as it will not all be discussions of paradigm management and kissing your superiors in strategically hidden areas. Warning: competency may involve learning how to do your job, then subsequently doing it. This opposes the business school notion of continuously shifting paradigms, downsizing, rightsizing, upsizing, and hiding in your cubicle until challenging work manages to go away and take care of itself.
2. Don't make a habit of screwing over your co-workers. Also important, remind our future leaders that the people they see daily are actual people, not merely the instruments of their own twisted amusement. They are not to be regularly humiliated, even if you are their supervisor. So just make sure the cubicle-dwelling proles are made allies before you exploit them to satisfy your own personal agenda.
Now that I have now been on the job just about the same 90 days, let's review Watkins' important tips in more detail and determine whether I have followed his suggestions. If I adhere to a tip, I earn 10% towards my final grade.
1. Promote Yourself
In chapter one, Watkins reminds us of the one thing most business school grads need no reminder about. Library school takes an alternate approach, instead conditioning graduates to accept that they will spend their professional lives serving a higher societal purpose, so they shouldn't expect forms of recognition as crude as community recognition or reasonable salaries. So you can understand this step has been a challenge for me. Nevertheless, I have tried promoting myself and my services to my constituents. However, given that most of my constituents are undergraduates, I can't say they've been really listening, or indeed, sober, or even awake.
Did my best. So far so good. Total grade: 10%.
2. Accelerate Your Learning
The evidence seems clear. People get all the way through business school, and only then does anyone explain that they'll have to learn something about their jobs. I can picture the reaction of highly trained B-school grads: "Can't we just send out a memo with A-list action items or something?" Well, I dunno, maybe they can, depending on whether or not the word "executive" appears in their job title. I, for one, can't. So: yes, I have taken the (apparently unprecedented?) step of learning about the things for which I am responsible. I cannot say whether or not I have "accelerated" it, because this is most likely a fictional concept.
Less good. Mostly my reasoning is smarmy and argumentative. No points. Total grade: 10%.
3. Match Strategy to Situation
I would say I have mostly done this, having not applied profoundly inappropriate strategies to my various situations. Beginning to think I would have been a Harvard business school savant.
Who fails at this, save for our President? And who can blame him? HE WENT TO YALE! Total grade: 20%.
4. Secure Early Wins
Consistent with the teachings of top flight business schools across the country, Watkins stresses that the most important thing is winning. Pure animal competition supersedes all other priorities. And your fiendish devotion to superiority should begin on Day 1. Have I complied? Not certain. How exactly does one "win" in a library? I mean, the whole point is to share as much information as possible, a socialist tenet which seems to oppose most of Watkins' core teachings. We could compete against other nearby libraries: give people false directions to the public branch, tell people that every book they check out from the Duke library supports Coach K's puppy euthanasia fund, stuff like that. Instead, perhaps I should concentrate on peripherals. NOT ONE PERSON has a larger collection of empty soda bottles on their desk. NO SINGLE CO-WORKER has cut off more phone calls while transferring them to another number. NONE OF MY PEERS have constructed a more indecipherable personal calendar to baffle colleagues. Early wins secured? Early wins secured.
Whoops! Too much creativity, a B-school no-no. Total grade: 20%.
5. Negotiate Success
Again, Watkins and I agree. In fact, I confess that it had not occurred to me to negotiate for abject failure. (I'm definitely feeling more and more positive about my business instincts as I proceed through this list.) In a rare move, I give Watkins the benefit of the doubt and instead assume he means something figuratively: perhaps that I am expected to define success on my own terms. If my "success" isn't recognized by my peers, then maybe I should concentrate less on working towards their expectations, and instead spend my days convincing them that what I've already done is success. This sounds more like the teachings of any reputable business school. For example: breaking the copier isn't failure, breaking the copier is a new paradigm in time management. You don't have to waste time makies copies now, do you? Falsely answering reference questions isn't failure, falsely answering reference questions pushes students towards higher standards of information evaluation. After all, this is an institution of learning.
A 'gimme' lesson. Total grade: 30%.
6. Achieve Alignment
I would say I'd definitively done this, if only it meant anything remotely tangible. Most likely, it's but a simple reminder to find power, and schmooze with it to the brink of personal nausea. I'll have to register this as another failure as a direct philosophical conflict with Watkins. My fantasies of B-school greatness begin to wilt: really, the best I got is trying to make chit-chat with my supervisor at the bus stop, and it's because I'm being friendly, not because I want to establish a puppet regime. That won't do at all.
Sounds like I'M working for my CAR, man. Total grade: 30%.
7. Build Your Team
My team consists of my previously-alluded-to collection of empty soda bottles, along with a scrappy and extremely loyal steno notebook. It's a small yet dependable group. We're considering adding the zip-loc bag, which has proven itself worthy by successfully protecting a bran muffin during the difficult bus trek to work.
No problem. Total grade: 40%.
8. Create Coalitions
Watkins' theories for success rely heavily on one's innate ability to form cliques and defeat other cliques. When exactly does this world pause the infighting long enough to produce an actual product or service? I'm even more confused about the humans than usual. Is Watkins just reminding me to make friends? My mom already did that. Watkins' paper-thin credibility reduced to near-invisibility.
Mom would pass me. Total grade: 50%.
9. Keep Your Balance
Don't tip over. Got it. Thank you, Harvard Business School.
B-school is loaded with gimmes. Total grade: 60%.
10. Expedite Everyone
From the American Heritage Dictionary: 1. To speed up the progress of; accelerate. 2. To execute quickly and efficiently: was trusted to expedite the directives of the board. 3. To issue officially; dispatch. Now is the time to turn all those coalitions/teams/cliques into your personal tie-clad army, exactly like things happen in the imperial dreams of power-hungry B-school undergrads. If there's a world where 90 days after our first awkward meeting I should be ready to expedite everyone, I'm not a part of it. Is this everyone else's life? What have I missed? Is it possible my mom forgot to tell me everything? This is like those "how to draw" books where step one is a line, step two is a line with a circle, and step three is Richard Nixon, and you're like, what the hell happened?
Richard Nixon is hard to draw. Total grade: 60%.
Final Grade: 60%
D-. Borderline failure. Seems I can just barely pass a business school course, and only because it's so easy I can't possibly do worse. Hooray! The system works!
2002-06 BuriedintheNoise.com