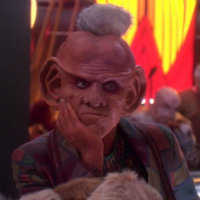 S2E4, "Invasive Procedures" (writer: John Whelpley)
Sisko was always going to be a shift in the role of the Trek Captain, whether that was the intention of the showrunners or not. The nature of the role means there would be no boldly going where no one has gone before, mostly you'll be doing some boldly staying. (They don't have any "boldly" preambles in this one at all, I just realized.) Plus you have to follow William Shatner and Patrick Stewart, so I mean, good luck. Kristen observed that Sisko is really more of a bureaucrat than the bold captain type anyway. His job is like 50% diplomacy and 50% administrivia like signing off on everyone's ideas and letting people check out runabouts.
After the station is cleared down to a skeleton crew due to an impending plasma storm, a group of rogues manage to dock and take over the station. They are able to circumvent the usual security with an assist from Quark. He just hides during the evacuation and disables security screens, as he has been tricked into thinking this is all a ruse so he can sell the pirates some fenced liquid data chains. (I guess, data clouds don't exist in interstellar space, so the "cloud" metaphor checks out.) Instead, the real ruse has nothing to do with him. The leader of the gang, Verad, is a Trill who is bent on hijacking Dax's symbiant for himself. This episode balances three tracks:
Lots of insight into Trill society and psychology. Verad is sort of a meek weasel by nature, and bitter about not being bonded with a symbiant. We learn that this isn't a thing that all Trills have, actually only 1 in 10 people make good matches. But this is determined by some Trill administrative process, and he didn't match up. He was devastated, and specifically wants to bond with Dax. I think this episode has finally helped me internalize the identity of the Trill person, Jadzia, as a separate entity from the symbiant, Dax. The symbiant goes from host to host, and is known as "Jadzia Dax" or "Verad Dax" or "Lester Dax", what have you. Also that the bonding experience makes a Trill feel like a more complete person, with sort of like a super partner, complete with multiple lifetimes of memories and experiences. Verad can't get over missing out, and Jadzia tells him it's totally normal, and plenty of Trill are fine without, even though it totally does rule to have one.
Really strong episode for both the character of Sisko, and the performance by Avery Brooks. Since he's been friends with Dax through multiple incarnations, he knows how much things will change for Verad once he's bonded. So he immediately starts working on Verad's partner and girlfriend Mareel, knowing that helping Verad accomplish his goal is the same as helping him be a different person. Of course as soon as he becomes Verad Dax, he becomes an overconfident brash jerkbag [this is probably why the Trill didn't give him a symbiant in the first place?]. Sisko picks up on it immediately and is back to work on Mareel, eventually making a compelling case for her to switch sides.
All the gross medical stuff. Symbiants are just big gross worms that are just as horrifyingly invasive as the ear slugs in Star Trek II, only these are nice slugs. Symbiant surgery looks pretty straightforward…disgustingly straightforward, frankly.
Endnotes:
The gang is prepared for Odo, they have a nifty little security box to contain him. It was curious to me that once they got him in there they could just pick it up. So he weighs, like, next to nothing? I guess he'd have to, he also was able to pool into Lwaxana's dress just a few episodes ago. I don't want to go all Trek nerd and wonder how he could have this near-weightless property and also wail on bad guys or disturb a chair he sits on, etc., so I'm going to let this go now.

Wait, one thing. Maybe you could argue this containment box has some kind of antigrav technology otherwise it'd be sort of impractical. One could also argue Troi's dress had the same, for fashion and flattery reasons. Let's go with that.

Quark is outed as a co-conspirator here and should absolutely be prosecuted, right? He does help straighten things out, including hacking Odo's security box. But he's only fixing a situation he created. Anyway I think he's up to 2 or 3 legitimate on-screen crimes that are forgotten once the episode runs its course.
Morn watch: No appearance. Since the station has been cleared, presumably he's left. But we never do see the bar, so we can't rule out Morn isn't just sitting in there wondering where everyone went.
Overall: An important episode for Trill stuff but maybe a little contrived in the setup and payoff, and some of the symbiant stuff was a bit hokey and convenient. They kept saying how dangerous it was to swap a symbiant or use a phaser on someone with one, but then whey went ahead and did it anyway. 3 out of 5.
S2E5, "Cardassians" (writers: Gene Wolande & John Wright)
I always really dug Worf episodes in TNG as a way to frame culture clashes, postwar reconciliation, or racism, and we've got a similar setup here. The Bajoran/Cardassian situation might still be a little raw to have an actual Cardassian crewmember aboard, but there is Garak, a Cardassian shopkeeper on the station, who apparently has continued to have coffee meetups with Bashir. This is presented like a regular thing but I couldn't remember when he'd even shown up before (it was only once) and had to look it up. It was back in the third episode, when he got friendly with Julian, and helped the crew ferret out a Klingon/Bajoran plot (it was an early episode I waited to long to recap and skimmed some details). Bashir still vaguely suspects him of being a spy, without any reason other than that he's a Cardassian, because I guess their coffee meetups are made more interesting with a hint of racial profiling. Garak seems to shrug it off because he seems to enjoy hiding whatever it is he's hiding.
The story centers around a Cardassian war orphan that had been left behind on Bajor. He was adopted by Bajoran parents and has been raised to hate Cardassians. Understandably, the Cardassian kid is pretty messed up from a lifetime of hearing that Cardassians are evil criminals by nature. When Garak gives him a friendly greeting he's rewarded with the kid up and biting a chunk out of his hand, the news of which spreads quickly and brings attention to the whole orphan abandonment issue at both Federation and Cardassian higher levels.
The episode forks in two directions, and like the best Trek, simultaneously covers both an intricate plot and more subtle cultural ground. An elaborate Cardassian scheme is unraveled by Bashir and Garak, but mostly Garak, whose detective instincts are so accurate one might suspect he knew exactly what he was looking for. Bashir can barely keep up and isn't getting anywhere trying to figure out what Garak is really all about. The episode resolves itself but Garak's role doesn't. I suspect we are going to see more of him.
The victim in all this is the Cardassian boy. It's hard to know what to make of him though. He hates Cardassians, but of course, he is one. He loves Bajor, but is spewing all this Bajoran spiritual rhetoric he's been indoctrinated with. I mean, none of this can ultimately be good for his mental health. No matter how much his parents love him, they've also pretty much warped him. Keiko takes charge while he's on the station, and one has to think he'd have a lot better off with a little more Keiko-style no-judgement authority in his life. [Keiko for president.] Sisko is set to arbitrate a hearing to determine whether it'd be better to keep him on Bajor or return him to Cardassia. Then — I was sort of shocked by this — we barely see any of the hearing. Instead the poor kid's fate is glossed over with some Captain's Log narration that amounts to: "Oh yeah we decided to send Rugal back to Cardassia." That is some stone-cold resolution, Sisko. Maybe they just ran out of time in an otherwise busy show. Though I was kinda wondering if Keiko and O'Brien would somehow end up adopting him as a neutral third party. I'd have liked if they did. Pretty ripe for material and he could get in on some Jake & Nog schemes.
Endnotes:
Enjoyably vile scene of Keiko preparing some Cardassian food, thinking it would be a nice gesture for Rugal. It looks like some sort of blue stew. O'Brien and the Bajoran-raised Rugal both hate it.
Like Armin Shimerman for Ferengi, Marc Alaimo is totally owning the role of Gul Dukat, and has entrenched himself in my brain as the prototypical Cardassian. Now I have the same problem I do for poor Armin Shimerman in that I think Marc Alaimo just looks like a Cardassian. He does have an exceedingly long neck that they factor into his makeup and costume.
Overall: Felt like the resolution with Rugal was a bit cruel, but otherwise lots of good stuff here, with some rich plotting. I did get a bit confused by the rapidly shifting revelations, and it's quite probably I didn't even catch everything, as intriguingly hinted at by Garak. This might be one to re-watch later on. 4 out of 5.
S2E6, "Melora" (writer: Evan Carlos Somers)
Definitely not limited to Trek, there's a standard TV trope where a character looks forward to an opportunity to meet someone they know only by reputation. Naturally they've built this person up into an amazing, brilliant, wonderful human whose work has demonstrated that, finally, this will be someone who GETS IT, who understands them, who represents all of their hopes. Then they meet…and their hero turns out to be a jerk.
We recently finished a watch-through of Frasier and they went to this particular well so many times I think you could build a whole season of that show solely out of episodes with this setup. As it happens, Bashir is a bit of a poor-person's Frasier: he's also a cultured doctor who views himself as a naturally charismatic ladies' man, but in practice, his smarmy courtship persona ensures he will be forever trapped in a comedy-rich cycle of excruciating dating failures.
Bashir's object of interest is the eponymous Melora Pazlar, who has been assigned some work at DS9, but is from a race that evolved on a low-gravity planet and as such, requires accommodations to work in standard Earth gravity. They have to retrofit DS9 with accessible ramps and build a wheelchair for her–apparently regular Earth accessibility needs have been completely solved with medicine or other technologies. In preparing for her arrival, Julian has become rather smitten with her through her work and ability to overcome handicaps, which brings us around to our trope & setup. The payoff pretty much follows the formula: her tough exterior is, of course, a cover for feeling vulnerable about being dependent on others, or ever being perceived as unfit for her work, but Julian sees through it and recognizes her for who she is, eventually eroding her defenses through persistence and charm.
Despite the familiar feel, as a whole, "Melora" is a success. It's maybe the first real glimpse past Bashir's oily surface to understand that he's a genuinely caring and thoughtful person. Melora isn't just a bland foil for him, either–she's cultured, enjoying both pleasant Vulcan classical music and horrifying Klingon cuisine, and she's complex, learning to understand how she can work and play well with others, even if that means recognizing she occasionally needs help. I really liked how they addressed the larger ambiguous question of whether or not she should accept medical treatment to improve her adaptation to Earth-strength gravity. There's no right answer. Damned if you do, etc.
Also someone from Quark's past is trying to revenge murder him. It's probably unnecessary since like, that's probably SOP for him. But it does serve as a good vehicle for some Odo editorials about Quark's overall negative contribution to society, and it moves the plot along.
Endnotes:
Greatly enjoyed the Klingon chef and musician. Klingon food and music is exactly as one would expect.
Standard Trek ending to a romantic story: the guest character is reassigned and (probably) never seen again. Welp.
Overall: I think writing up a review made me appreciate this episode more. Watching it felt pretty familiar, I feel like I've seen a million stubbornly independent characters who eventually admit some variation of "no man is an island", but it's a quite well-crafted skiffy example with lots of good character stuff. 4 out of 5.